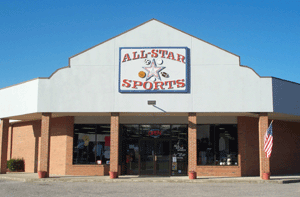 All Star Sports is a family run business located in Florence, SC. All Star Sports began as a dream of one child who excelled in all sports, who went on to play with several future NFL stars while attending High School and the University of Tampa. In 1989, that dream became a reality as an experienced staff sold the first bat, glove, punching bag, and pair of shoes. That staff is still in management today and have added quality employees to the All Star roster.
All Star Sports started as small store next to an ice cream shop and has expanded into one of the largest sports stores in South Carolina by offering a variety of products specializing in individual and team sports. In 1996, All Star merged with two local area stores to become a regional sports center for many little league teams, traveling soccer clubs, men's tennis programs and a variety of other sports organizations.
Providing knowledgeable and dependable service and products to the average consumer is a daily goal, while still outfitting high school state champions and collegiate divisional champions.
Selling quality products by quality vendors equips your player with gear that will bring them to the next level of play and will provide many years of memories. We also sell many quality products by Russell Athletic, Rawlings, Mizuno, Adidas, Prince, Wilson, Under Armour, and many more.
Our goal is to provide exceptional service in the store and on the website to our customers and teams. Share personal experiences and knowledge with customers who need advice about any sport. All Star Sports knows that all customers can be an All Star. Sharing our dedication and service we can help you find the gear you need to be "An All Star Player"